TravelXL - Travel Agency Website UI Design
TravelXL is a travel agency that offers an extensive list of hotels, tours, and packages in various destinations. The travel agency's UI design is focused on a minimal layout with clear typography, color choices, and subtle use of images.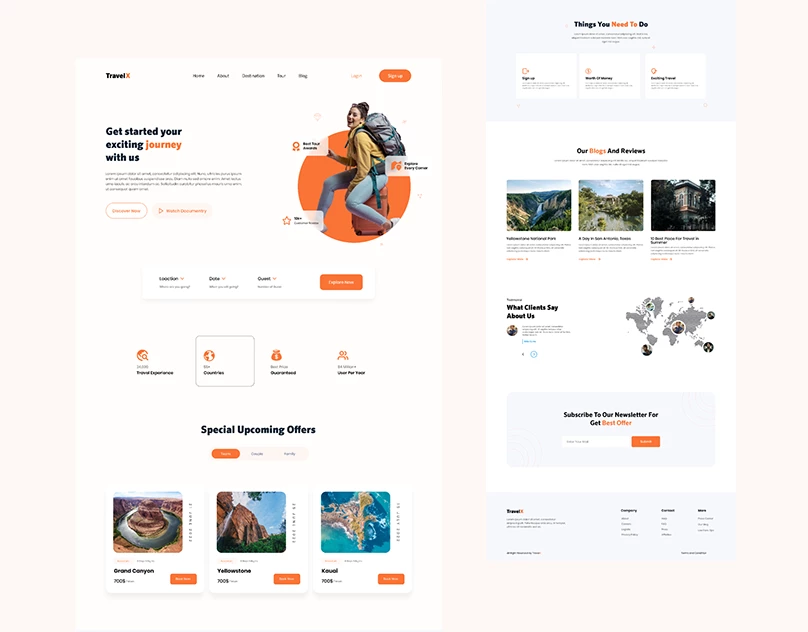 The Goal
TravelXL is an application that enables travelers to plan their trips in a user-friendly way. The app allows users to search for destinations, select the best options and get information on the place. It also gives users the possibility to share their experiences with other travelers. Design Process We started working on TravelXL from scratch without any previous experience. The client gave us only a few requirements.

The Strategy
TravelXL is a travel agency that provides flight ticketing, hotel booking, and car rental services. TravelXL is an online travel agency (OTA) with a user-friendly interface that allows users to book travel plans via the internet. The strategy of UI design for a travel agency starts from the strategy of logo design to the strategy of website design.

Result
The result of the TravelXL project is a set of designs for an application to help travelers find and book travel packages and flights. The app will allow you to create itineraries, view them on your device or in a web browser and even check in at the airport. You can also share your itinerary with friends or relatives using Facebook, Twitter, or email. The VentCube team does the design of the TravelXL app.